Ajay Piramal leads the Piramal Group which is a diversified business conglomerate with pharmaceuticals, packaging, financial services and real estate. The Piramal Group is present across 100 countries. Ajay started his family's textile business and moved from textiles to pharma. Under his leadership the Piramal Group evolved textile centric business. He serves as the Director for State Bank of India and Dean's advisors in Harvard Business School along with Piramal Enterprises Ltd, Piramal Life Sciences Limited, Piramal Glass Ltd., Allergan India Limited, Indiareit Fund Advisors Pvt Ltd., IndiaVenture Advisors Pvt Ltd. andPiramalSunteck Realty Pvt Ltd. He is the chairman of the Board of Governors of IIT Indore.


He bought the Nicholas Laboratories which was an Australian multinational corporation in the year 1988. The company is also held in overseas. He also developed the Crossroads which is the first major shopping mall in Mumbai.

He established the Piramal foundation which is the innovative solutions that resolves issues related to Healthcare, Education, water and women empowerment. This has made positive difference to millions of peopleimproving access to primary healthcare in government schools and for generating livelihood for rural women.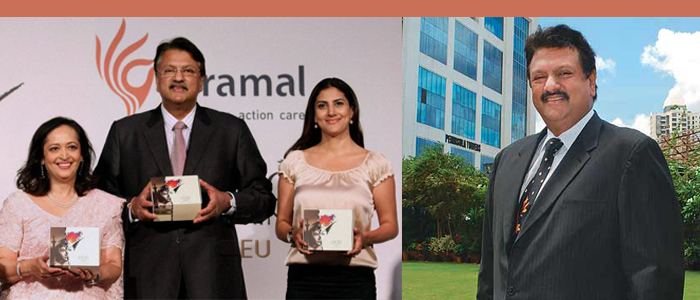 Ajay was born on 3rd August 1955. He is a Science graduate from Bombay University. He completed his B.Sc. (Hons.) and Masters in Management Studies from Jamnalal Bajaj Institute of Management Studies. He also pursued Advanced Management Program from Harvard Business School, USA. He is married to Swati Piramal who is the Vice Chairperson, Piramal Enterprises Ltd. They both have converted a mansion in the hill station of Mahabaleshwar. It belonged to the former king of Sangli. Dr. Swati Piramalis one of India's leading scientists and industrialists. She involves in public health and innovation.
Philanthropy
Ajay is known for one of the India's leading philanthropists and social entrepreneurs. He was, which is the largest NGO in India. It started the 'Read India' campaign for the education sector for millions of children in India. Initially, Pratham was established by the Commissioner of the Municipal Corporation of Greater Mumbai, UNICEF, and several prominent citizens of the country in 1995 as a Public Charitable Trust. It provides education to children in the slums of Mumbai.
Other Activities


He has a passion about wildlife photography. He also authored two books.For one he co-authored 'Light has come to me' which is a book about management lessons inspired from The Bhagwad Gita. Another was on dance opera, 'The Dance of Life' which contains the stories inspired by the history of Mrinalini Sarabhai and Mallika Sarabhai of Indian science.
Awards
In 1999, he received the CEO of the Year Award by World Strategy Forum.
In 2001, he was awarded the Four Way Test Award.
In 2004, he was conferred with Ernst & Young's Entrepreneur of the Year in the Healthcare & Life Sciences category.

In 2006, he received Entrepreneur of the Year Award of UK Trade & Investment Council.
In 2008, he was awarded India Innovator of the Year by CNBC TV.
In 2010, he was conferred with Kriyasheel global achievers award.