G.V. Krishna Reddy, an entrepreneur and philanthropist, was born on March 22, 1937. GVK is the founder and chairman of the business behemoth GVK Group, which mostly focuses on infrastructure development. He earned an arts degree and afterwards completed an OPM course at Harvard University. The founder and chairman of the broad corporate conglomerate "GVK," which specialises in infrastructure development, is the Indian industrialist Dr. GV Krishna Reddy.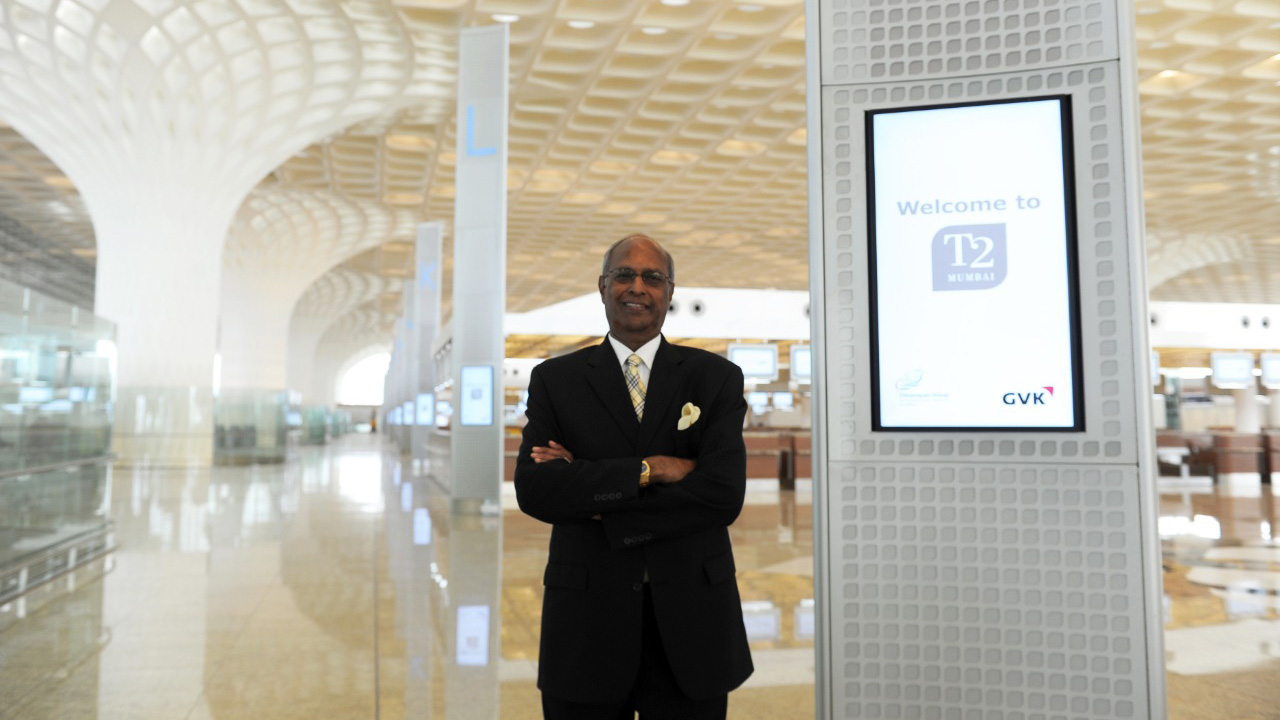 | | |
| --- | --- |
| Name | Gunupati Venkata Krishna Reddy – Founder and Chairman of GVK Group |
| Born | 22 March 1937 in Kothur, Madras Presidency, British India. |
| Nationality | Indian |
| Education | Owner/President Management (OPM) Program from Harvard Business School, USA |
| Spouse | Indira Reddy |
| Children | Shalini Bhupal, G.V. Sanjay Reddy |
| Awards | Padma Bhushan (2010) |
| Website | gvkrishnareddy.com |
Career
---
Early in his career, he worked as a contractor on significant irrigation projects such as irrigation canals, dams, and bridges. One of the major participants in India's infrastructure development nowadays is GVK. GVK has a sizable presence in the hospitality and urban infrastructure sectors, in addition to airports, energy, and expressways.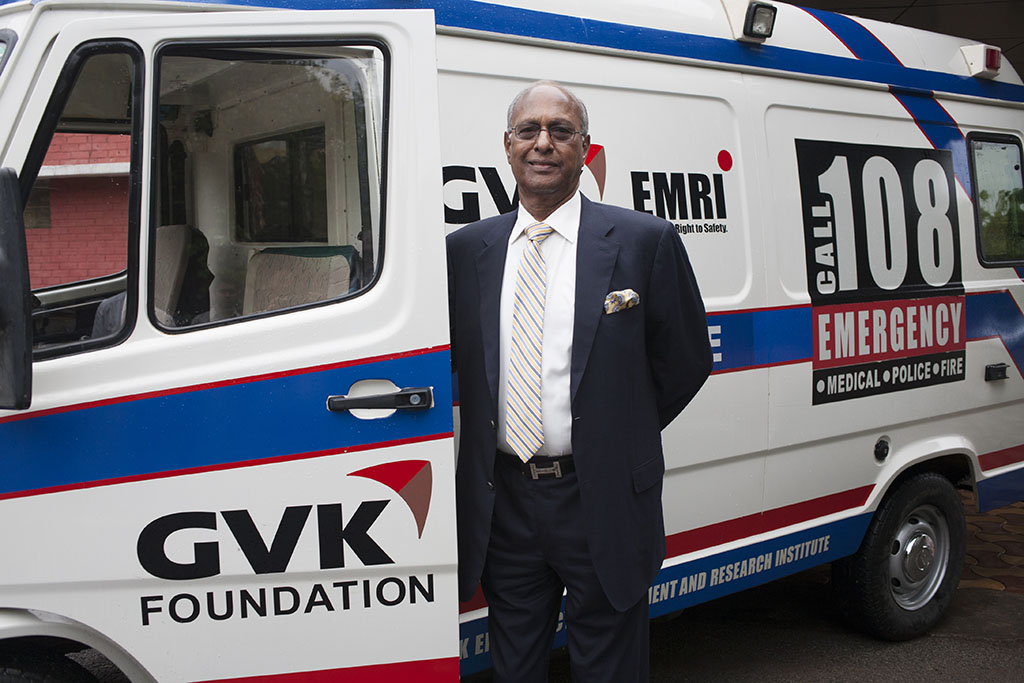 Philanthropy
---
Dr. GVK Reddy is a committed philanthropist who founded the GVK Foundation to sponsor and assist poor kids in the areas of education, housing initiatives, and the supply of clean water to certain communities in Rajasthan and Andhra Pradesh. Dr. GV Krishna Reddy has worked on a variety of infrastructure initiatives and has finished historic projects in a flash, including the first independent power project in India at Jegurupadu, Andhra Pradesh; the first six-lane expressway in the country linking Jaipur, Kishangarh, and Rajasthan; and the renovation and modernization of Mumbai's international airport. The Taj GVK hospitality network, which consists of four luxury hotels in Hyderabad, Chandigarh, Chennai, and Mumbai, was launched and is being operated by him in partnership with the Taj Group of Hotels.
One of his most significant accomplishments was founding "GVK EMRI," a company that has been successfully offering services all throughout the country. GVK EMRI, popularly known as "108 Emergency Response Service," is the only well-organized, competent, and free emergency service provider in India and offers services in 15 states and 2 union territories.
In addition to offering emergency services, it has helped more than 50,000 individuals find work. It has effectively assisted in delivering services to over 850 million people and has saved thousands of lives each year with its 14,000 cutting-edge ambulances. With the assistance of the Indian government, Dr. GV Krishna Reddy launched the 1900 Suwasariya service, also known as GVK EMRI Lanka, in July 2016 in conjunction with the Government of Sri Lanka. The Sri Lankan government spread its services across the country in less than two years. The GVK EMRI services have been actively provided by Dr. GV Krishna Reddy in a number of localities. His organisation opened a tennis academy in Hyderabad to promote learning and playing lawn tennis in honour of his passion for the game. In order to raise money for the building of GVK ChinmayaVidyalaya, a CBSE-affiliated school managed by the Chinmaya Mission in the Nellore district of Andhra Pradesh, he even donated a portion of his family property. In addition to this, his foundation has contributed money to the construction of a cutting-edge radiology department at St. Joseph's Hospital in Nellore.
Dr. GVK Reddy has been a pioneer in the field of infrastructure in India. His vision and leadership have helped GVK successfully complete a number of projects in a flash, including the operation and modernization of Mumbai's international airport; India's first independent power project at Jegurupadu in Andhra Pradesh; and India's first six-lane expressway connecting Jaipur and Kishangarh in the state of Rajasthan. The first phase of the 60 million annual passenger Greenfield Navi Mumbai International Airport is now being built and developed by GVK. Dr. Reddy played a key role in the establishment of GVK EMRI, which is redefining emergency response services in India. Since it operates the 108 Emergency Response Service in 15 states and two union territories in India, serving over 750 million people, it is the only professionally organised, free emergency service provider in the nation. Every year, it saves thousands of lives. Over 12,500 modern ambulances are used by GVK EMRI, which employs over 47,000 people. With support from the Government of India and cooperation from the Government of Sri Lanka, GVK EMRI Lanka launched the 1900 Suwasariya service in July 2016. With technological assistance from GVK EMRI, the Sri Lankan government expanded this service across the country in July 2018.
Awards
---
Dr. GVK Reddy has received numerous honours, awards, and accolades over the past 20 years.
In 2008, the ET Awards named him "Entrepreneur of the Year."
In 2011, the President of India presented him with the "Padma Bhushan," the nation's highest civilian honour.
In 2017, the Construction Times Annual Awards presented the "Lifetime Achievement Award."
The "Lifetime Achievement Award" was presented at the "Realty Plus Conclave & Excellence Awards-South 2017."
"Lifetime Achievement Award" for a contribution to the infrastructure and construction sectors was given out at the 6th EPC World Awards in 2017.
---
Please visit for more information about influencers.
Shiv Nadar- HCL Technologies and IT business Tycoon
Falguni Nayar – Founder of Nykaa
Joy Alukkas – The Chairman and Managing Director Of Joyalukkas Jewellery