Flaguni Nayar is one of the top CEOs in India. The entrepreneur is credited with founding the online "Nykaa" platform for beauty and wellbeing. She surpassed Kiran Mazumdar-Shaw, the creator of Biocon, to take the title of richest self-made Indian woman on the IIFL Wealth Hurun India wealthy list in September 2022. Her father owned a bearing company, so she hailed from a business family. Following her graduation from IIM Ahmedabad, Falguni started her career in consulting with A.F. Ferguson & Co. She then worked for Kotak Mahindra Bank for 18 years, serving as its managing director.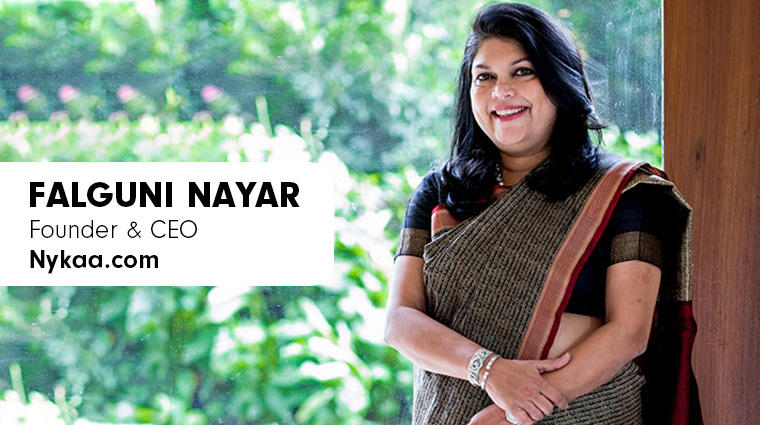 | | |
| --- | --- |
| Name | Falguni Nayar – Former President of a Fortune 500 Company and Founder of Nykaa |
| Born | February 19th, 1963 in Mumbai, Maharashtra, India. |
| Education | MBA in Finance,Sydenham College of Commerce and Economics, Mumbai |
| Occupation | Founder & CEO of Nykaa |
| Year of active | 1963 – Present |
| Spouse | Sanjay Nayar |
| Children | 2 |
| Nationality | Indian |
Journey of Nykaa
---
In 1993, Falguni Nayar started working as an investment banker for the Kotak Mahindra Group. In 2005, she received a promotion to managing director at Kotak Mahindra Capital. After more than 19 years of service, Falguni left her job with the Kotak Mahindra Group to pursue her business dreams. In 2012, Falguni Nayar, 50, made the decision to move ahead because she felt that India needed an online platform for cosmetics and wellness, two areas in which the country lagged far behind other countries in terms of standards. She decided to bring this to India and launched an e-commerce platform called Nykaa.
Nykaa, a multi-brand online cosmetics shop, was established by Falguni in 2012. It is a well-known cosmetics brand in India that sells products online. The idea of Nykaa first occurred to Falguni Nayar when she had some spare time after her twin daughters, Anchit and Adwaita, went for their studies in the United States. The one-woman army, who set a goal of 50, took a risk and left Kotak, "where everything was going perfectly," as she told Livemint. She declares, "I'm an adventurer." Even though I could never swim well, I was usually the first to jump in. She said, "I never stop to consider, 'What if I break my leg'?
When asked about her love of makeup, she says, "I enjoy wearing makeup, but I no longer have the time to do so." She was driven by her sense that India needed an internet venue for health and beauty as well as some raucous fun. She has been able to effectively select more than 850 companies and 35,000 products, bridging the gap and transforming the way women buy. With 17 locations across India, the firm is present in many other cities as well. Two shop types exist: Nykaa Luxe and Nyka on Trend. Along with Nykaa Beauty, the company's own line of cosmetics, On Trend is a collection of goods that are currently in demand on the market. Luxe also carries cosmetics from worldwide and Indian brands. The young yet incredibly successful online cosmetics brand targets people between the ages of 22 and 35.
Nykaa and Femina collaborated to organise the Nykaa Femina Beauty Awards in 2018. Nykaa filed IPO papers with SEBI on August 3, 2021. According to reports, the IPO included a new issue of equity shares for INR 525 crore, and the company's equity shares were intended to be listed on both the BSE and NSE. When Nykaa's IPO was announced in November 2021, the company's shares skyrocketed by as much as 89% when trading began on November 10 of the same year. As a result, Nayar's net worth increased to $6.5 billion, making her the richest self-made billionaire in India.
When questioned about the catalyst for her success and advice for aspiring business owners, she responded, "Take risks along the road without fear." You are fortunate to be entering a world that is becoming more risk tolerant. Take the proper chances and place some big bets on yourself in the early stages of your career. Try out the things you like and dislike. Engage in challenging positions that require you to step outside of your comfort zone. Making decisions will not always be simple, and there may not always be an obvious solution. So, believe your instinct; it will lead you in the right direction. Any form of business requires a lot of dedication, perseverance, conviction, and time. Somehow, I started before I reached 50 because I had a very strong idea that I would need at least 10 years. I think women place unnecessary mental restrictions on themselves. Many women nowadays are running their own companies while raising small children. I doubt there is a single playbook. I'm pleased I at least gave it a shot when I attempted it since I did it when I did. "
Achievements:
---
Falguni received the "Woman Ahead" award at the 2017 Economic Times Startup Awards.
She was named Businesswoman of the Year at the Economic Times Awards for Corporate Excellence 2019.
She was also named Vogue India's Businessperson of the Year 2019 and Forbes Asia's Power Businesswomen of 2019.
She has been selected as the 2019 EY Entrepreneur of the Year – Start-up Award winner by Ernst & Young.
Among other things, she serves on the boards of ACC, Dabur, Endurance Group, and Tata Technologies.
Falguni Nayar's net worth is estimated to be approximately $4.5 billion.
---

Please visit for more information about influencers.
Shiv Nadar- HCL Technologies and IT business Tycoon
Joy Alukkas – The Chairman and Managing Director Of Joyalukkas Jewellery