Azim Hashim Premji: " Talented Business Baron"
Azim Premji is a great business magnate and founder and chairman of "Wipro Limited" company and great Philanthropist. He was born in the year 1945 on 24th July. He is the basic pillar of development and existence for Wipro Software company. During the period from 1999-2005 he is the most richest Indian and fourth wealthiest person in Indian with a personal wealth of $ 16.4 billion in 2014, which was given by Forbes. According to Asiaweek magazine he was voted among the 20 most powerful men in the world in the year 2010. Premji owns 75% of Wipro and also owns a Private equity fund. By Time Magazine it was given that he was one among the 100 most Influential people in the year 2004 and 2011.
Azim's Business commencing peak: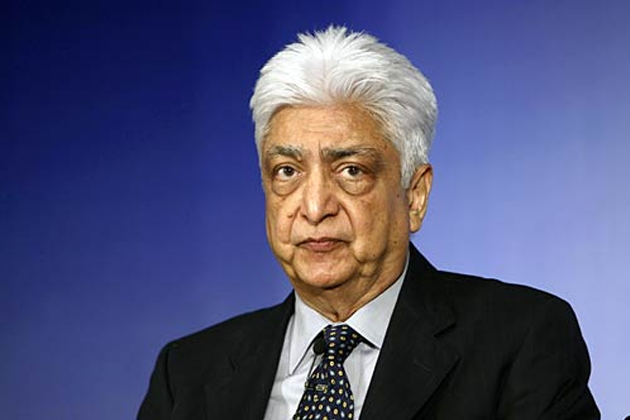 Azim hasen't started Wipro IT Limited as his initial business, he first incorporated Western Indian Products Ltd, at Amalner, a small town in Jalgaon district of Maharastra. This company used to produce the products like cooking oil with the brand names Sunflower Vanaspati, and a laundry soap called 787, a byproduct of oil manufacture. He completed his graduation at Stanford University, he then returned from the university and changed his business into another process. The company Western Indian Vegetable Products was dealt in hydrogenated oil manufacturing but he later changed the company to bakery fats, and also manufactured some products like ethnic ingredient based toiletries, hair care soap, lighting products, and hydraulic cylinders.


In the year 1980's he moved towards IT sector side because of it's boom and entered the high technology sector by manufacturing minicomputers under technological coaction with an American Company Sentinel Computer Corporation. In this way he shifted his interest from one area to another.
Premji a great "Philanthropist":
He is a great donar, it includes donation made by companies and by him personally. He is a good responsible entrepreneurship in India. He won the award as Outstanding Philanthropist for making India's biggest philanthropic contribution and for achieving universal quality education. His trigger was strongly distributed by growing inequity between have's and have-not's was afraid growing disparity would threaten society. His aim was to set up best education quality, which would improve social conditions as well as economical conditions. Working with government schools, bringing change in society, improving quality of teachers all these are his action plans.
He also set up Azim Premji University, to produce education professionals, focus on research, set up 200 rural schools to showcase good education. we can say he is "the first tug of Philanthropy".


Personal Life of Azim:
He has graduated in Engineering under the stream of Electrical Engineering. He married to Yasmeen, the couple blessed with two children and their names are Rishad and Tariq. Rashid is currently working as the chief strategy officer of IT business, wipro. By business week magazine Premji has been recognized as one of the tycoon entrepreneurs for Wipro as world's fastest growing company.
An accolade for bravery:
He was conferred an honorary doctorate in the year 2000 by the Manipal Academy of Higher Education.
In the year 2006, Azim Premji awarded Lakshya Business Visionary by National Institute of Industrial Engineering, Mumbai. And one more award from Wesleyan University in Middletown, Connecticut for his outstanding Philanthropic work.
In the year 2005, the government of India honoured him as Padma Bhushan for his tremendous work in trade and commerce. Again in the year 2011, he was awarded with India's second highest civilian award Padma Vibhushan by government of India.
In the Year 2013 he received the ET Lifetime Achivement Award. All these are some of the examples to say that Azim Premji is an extraordinary man.
A saying by Azim Premji-"I strongly believe that those of us, who are privileged to have wealth, should contribute significantly to try and create a better world for millions who are far less privileged".