Achyuta Samanta is the founder of KIIT Group of Institutions and Kalinga Institute of social sciences. He is a social entrepreneur and philanthropist of Art of Giving in the Indian state of Odisha. He always looked for ethical values of life rather than material richness. He had set up a world class university that runs many institutions and the Kalinga Institute of Social Sciences (KISS) had looks at the education of underprivileged tribal children. KISS provides education to more than 25000 tribal people by giving them free education from Kindergarten to post graduation. These are recognized as A grade from the Ministry of HRD by Government of India. The students in KISS are provided education like Medical, dental, engineering etc. in KIIT University.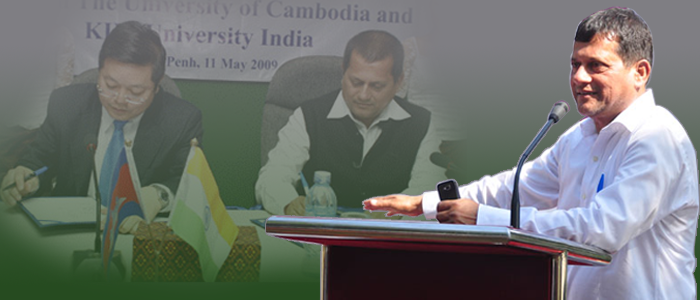 He is serving Member of National Council for Teacher Education (NCTE), Coir Board of India, National Executive Council Member, Indian Society for Technical Education, Executive Committee Member, Indian Science Congress Association (ISCA), International Association of University Presidents (IAUP), United States of America, Institute of International Education (IIE), New York, Association of University of Asia Pacific (AUAP), University Mobility in Asia and the Pacific (UMAP) in Thailand, Asia-Pacific Journal of Public Health (APACPH), United Nations Academic Impact (UNAI), and Asia Economic Forum (AEF).
Personal Life
Achyut Ananda was born on April 19th 1965 in the village of Kalarabanka in Cuttack District of Odisha. He lost his father at the age of four. He had to face poverty along with his seven siblings and his mother. He was a menial worker at his early ages. He assisted his mother at home and farm to generate income for the family. He completed M.Sc in Chemistry from Utkal University. He was a lecturer in Maharshi College under Utkal University. In the year 1992, he started the KIIT and KISS. He has enormous contributions in spreading higher education, professional education and health education. He contributed in the development of art, film, culture, Literature and spiritualism.He transformed his native Kalarabanka to a model village by providing city facilities and transformed the panchayat to smart panchayat.


The KIIT group of institutions include KIIT International School, Kalinga Institute of Medical Sciences (KIMS), KIIT School of Management (KSOM), KIIT School of Rural Management (KSRM), KIIT School of Computer Application (KSCA), KIIT School of Biotechnology (KSBT), KIIT Law School (KLS), KIIT School of Languages (KSOL), Kalinga Institute of Dental Sciences (KIDS), Kalinga Polytechnic and Kalinga Institute of Nursing Sciences (KINS).
He created indirect and subsidiary employment opportunities for lakhs of people by giving direct employment. He has changed the contours of the city. He started the Art Of Giving for bringing peace of mind among people across the globe. He started his crusade India Against Negativity in the society and Kampashn. It is a charitable store for used garments and articles. By this he stayed as a social reformer.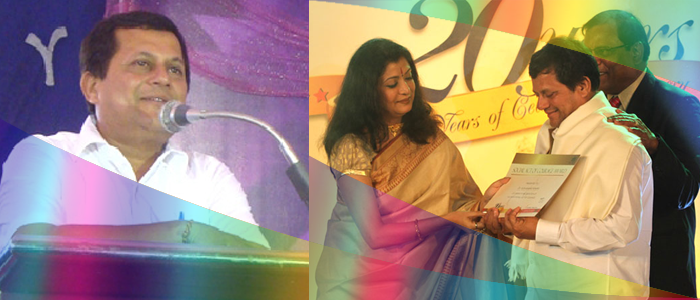 Awards
Achyuta received a number of awards and accolades for his contributions. He appears in The Limca Book of Records as the youngest chancellor of any University in India.
In 2009, he was presented the Gandhi Seva Medal by Gandhi Global Family in recognition of Philanthropic and Charitable works for the Downtrodden.
In 2010, he received the National Young EDGE Award for outstanding contribution in Education, Asia's Best Social Entrepreneur Award and Swami Vivekananda National Award by the Department of Youth Services and Sports.
In 2011, he was conferred by DainikBhaskar India Pride Award, Godfrey Phillips Bravery Award for an exceptional Act of Courage, ICON of Odisha 2011 by Times of India and Rajdhani Gaurav Samman.


In 2012, he was presented the Utkalshree Award, 15th BhagwanMahaveer Award, Qimpro Platinum Standard 2011 Award for Education and Jawaharlal Nehru Award.
In 2013, he won the Lifetime Achievement in Education Leadership and The Highest Prize of Czech University of Life Sciences Prague (CULS).
In 2014, he was awarded Think India Award by Think Media at Transforming India Conclave, Honorary Fellowship Award by Computer Society of India, VisistaPuraskar from 24th Annual Awards, Commonwealth of Independent States (CIS) Award from Russia, Gusi Peace Prize Internationalfrom Philippines and 2013 World of Difference Awards by US-based International Alliance for Women.
In 2015, he received the Hall of Fame Award by World CSR Congress and Successful Entrepreneur Award at Economic Times Entrepreneurship Summit. He was also awarded with the Highest Civilian Award of the Kingdom of Bahrain..
In 2018, he was awarded by the University of Cambodia with the UC Distinguished Professorship in Humanities.
In 2019, he received the Personality of the Year by the Federation of Indian Chambers of Commerce & Industry, Golden Gabel Award by World Academy of Arts and Culture and Outstanding Green Activist Award by India Green Energy Awards organized by IFE.