Venu Srinivasan is an industrialist from India. In India's Tamil Nadu state, he was born in Chennai.  He is the chairman and managing director of one of India's largest two-wheeler manufacturers, TVS Motor Company. He attended the Guindy College of Engineering at Purdue University for his schooling. He married Mallika Srinivasan, and they have two children: Lakshmi and Sudarshan.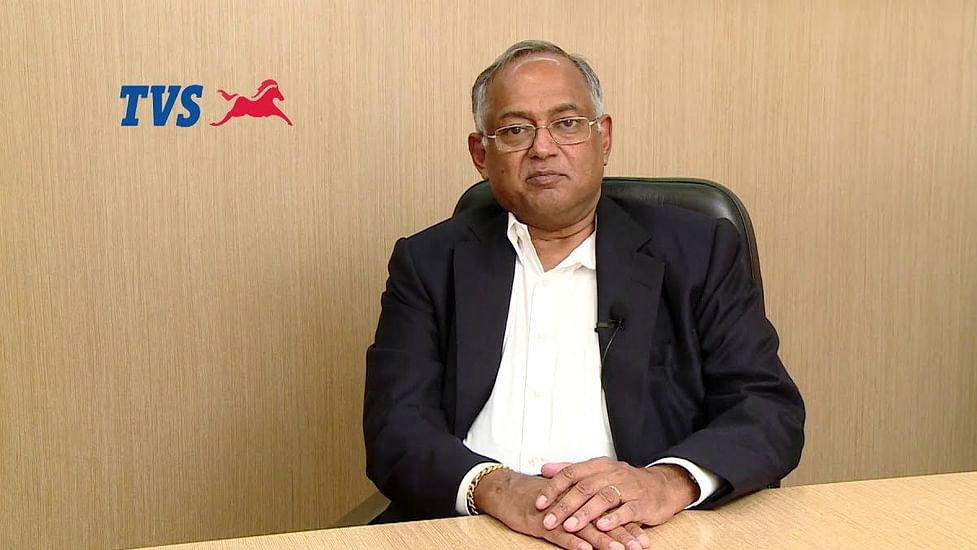 | | |
| --- | --- |
| Name | Venu Srinivasan |
| Born | 11/12/1952 |
| Education | College of Engineering, Guindy Purdue University |
| Nationality | Indian |
| Children | Lakshmi Venu, Sudarshan Venu |
| Award | He was awarded the Padma Bhushan in January 2020 |
Biography:
---
Indian businessman Venu Srinivasan is the Chairman of the TVS Group, which includes the Sundaram-Clayton Group and its subsidiary TVS Motor Company, the country's third-largest two-wheeler manufacturer. Additionally, he sits on the boards of TVS & Sons, Cummins India, and Tata Sons Ltd., the parent company for the conglomerate Tata Group. He serves as Tata Trusts' vice chairman as well. Tata Trusts hold sixty-six percent of Tata Sons' equity. In January 2020, he received the Padma Bhushan Award, the third-highest civilian honour in India.
He is in charge of Srinivasan Services Trust (SST), an organisation that works in 5000 Indian villages as a component of TVS Motors and Sundaram-social Clayton's outreach. For Indian village communities, SST has developed a self-development model that addresses infrastructure, education, healthcare, economic growth, environmental protection, and community development.
Srinivasan has backed restoration efforts at the complex and numerous other old temples in India. In addition, he serves as the head of the Srirangam Sri Ranganathaswamy Temple's board of trustees.
Career:
---
The founder of the TVS Group, T. V. Sundaram Iyengar, has a grandson named Venu Srinivasan. He completed his higher secondary education at Madras Christian College. He earned a Master of Science in Management from Purdue University in the United States after completing his studies at Guindy's College of Engineering.
In May 1979, he was appointed managing director of Sundaram-Clayton. Later, he rose to the position of Chairman at TVS Motor Company. Srinivasan orchestrated a turnaround for the two-wheeler manufacturer in the late 1980s when it was beset by labour disputes with strike-breaking workers and suffering rising losses. Three months of industrial closure by Srinivasan led to concessions from the unions. Then he improved the equipment in the facility, made investments in new technologies, and put Total Quality Management (TQM), a Japanese approach to process-driven production, into practice.
Company profile:
---
Indian multinational automaker TVS Motor Limited is based there. The company's headquarters are located in Hosur, Tamil Nadu, India. It is India's second-largest two- and three-wheeler producer, producing three-wheelers, motorcycles, mopeds, scooters, and other two- and three-wheeler vehicles. With distribution in over 60 countries, the company is among the top ten two-wheeler manufacturers worldwide. The coveted Deming Prize for excellence in quality was awarded to it as the first two-wheeler producer in the entire world. Over 33.5 million people use TVS vehicles across the nation, according to the business. Additionally, the company places a high priority on being socially responsible. It helps the Srinivasan Services Trust conduct various sustainable activities to improve the quality of life for people in regional communities worldwide.
Networth:
---
Venu Srinivasan is an industrialist and one of the wealthiest individuals in India. Srinivasan is worth $2 billion. He serves as Chairman of TVS Motors, one of India's major two-wheeler producers.
Awards and achievement:
---
The Confederation of Indian Industry (CII) elected Venu Srinivasan as its President for the 2009–10 fiscal year. In recognition of his achievements in commerce and industry, Srinivasan received the prestigious Padma Shri Award from the Indian President in 2010. He also serves as the Republic of Korea's "Goodwill Envoy for Culture and Diplomacy." In addition, he formerly served as the Republic of Korea's Honorary Consul General (in Chennai). As a result of his efforts to advance bilateral ties between South Korea and India, he was presented with the Order of Diplomatic Service Merit by South Korean President Lee Myung-bak in 2010.
For his contribution to the idea and practice of quality management inside TVS Motor Company, the Asian Network for Quality (ANQ) selected Srinivasan as one of the winners of the Ishikawa-Kano Award for the year 2012.
Srinivasan received the ROKS Choi Young Honorary Commander title in recognition of fostering ties and collaboration between the Republic of Korea and the Republic of India (DDH-981). In addition, Srinivasan received honorary citizenship in December 2014 from the mayor of Busan Metropolitan City, the second-largest city in Korea.
Star of Asia- 2003
Doctor of Science- 2004
Jamsetji Tata Lifetime Achievement Award- 2004
Award for Corporate Leadership from JRD Tata, 2005
Doctor of Science- 2009
Padma Shri-2010
Order of Diplomatic Service Merit- 2010
Ishikawa-Kano Award- 2012
Doctor of Management- 2014
Honorary Korean Naval Ship Commander, ROKS Choi Young, 2014
Republic of Korea's Busan City awarded honorary citizenship in 2014
Goodwill Envoy for Public Diplomacy- 2015
Champion of Champions and Best CEO- 2016
Lifetime Achievement Award- 2018
Deming Distinguished Service Award- 2019
He was awarded the Padma Bhushan in January 2020
---
Please visit for more information about influencers.
Chandru L Raheja- The Chairman of the K. Raheja Corp.
Anu Aga-The Chairman of Thermax Ltd
T. S. Kalyanaraman Iyer – Founder and Chairman of Kalyan Jewellers