Chandru Lachmandas Raheja is a millionaire, businessman and the chairman of K Raheja Corp, which is involved in developing IT parks, hotels, malls, and operating department store chains, including Shoppers Stop.
After the family enterprises were divided in 1996, Raheja oversaw his company's diversification into new industries.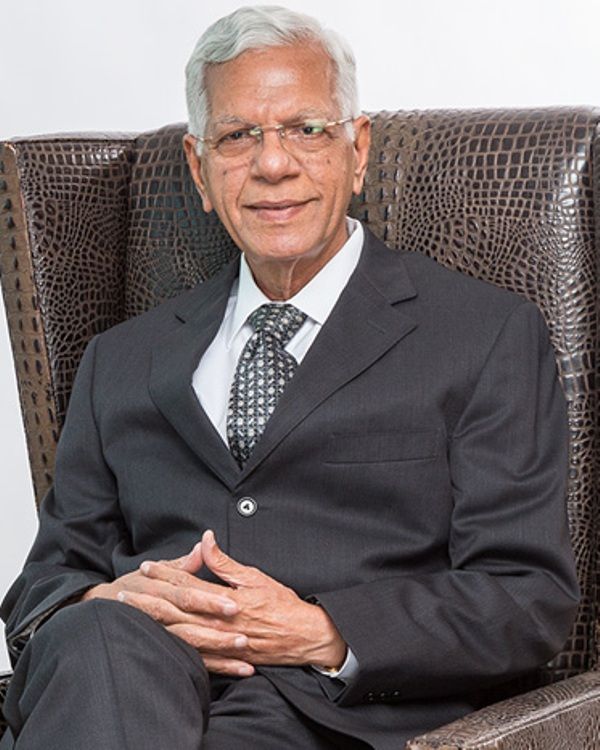 | | |
| --- | --- |
| Name | Chandru Lachmandas Raheja |
| Born | 1941 |
| Education | National Law College, Mumbai |
| Nationality | Indian |
| Children | Ravi and Neel Raheja |
| Award | In 2017, K. Raheja Corporation presented him with the "Most Reliable Builder Award" on behalf of CNBC. |
About:
---
Indian businessman Chandru Raheja expanded his family's modest real estate operation into the well-known K Raheja Corporation. It has constructed several homes, offices, malls, hotels, and IT parks under his direction. The K. Raheja Group's portfolio highlights include Shoppers Stop, Hypercity, and Orbit Malls. In addition, he has partnered with the Australian company Servcorp to provide serviced offices. He is a Forbes billionaire with a $2 billion U.S. net worth. He is well-recognized for his modest lifestyle and media-diffident demeanour.
Early life:
---
Chandru Raheja, the youngest of four siblings, was born in 1941. The University of Mumbai awarded him a law bachelor's degree. He has a wealthy cousin named Rajan Raheja.
Career:
---
After the company was split into three sections in 1996—Gopal Raheja, chairman of K Raheja Constructions; Suresh Raheja, chairman of K Raheja Universal; Chandru Raheja, chairman of K Raheja Corp. and Shoppers Stop Ltd.—Raheja founded his own real estate company. Harish Damodaran wrote in India's New Capitalists: Caste, Business, and Industry in a Modern Nation that K Raheja Corp., owned by the Raheja family, had become the most prominent company among those that had been created as a result of the split.
Raheja oversaw K Raheja Corp., which expanded into new markets and made significant strides in the residential and commercial real estate sectors. For example, the K Raheja Corp-owned department store chain Shoppers Stop, founded in 1991, paved the way for the company's expansion into the construction of malls like In Orbit in 2004. In addition, he assisted K. Raheja Corp. in creating the Mindspace brand, which was built to acquire property for the establishment of I.T. Parks.
Raheja has been active in sustainability through Mindspace-branded green buildings and growing the business.
Personal Life:
---
Raheja is married to Jyoti C. Raheja, and the couple resides in Mumbai with their two children, Ravi and Neel. The group presidents of K Raheja Corp. are Ravi Raheja and Neel Raheja.
Networth:
---
Chandru Raheja has a net worth of $2 billion and is a successful businessman from India. The privately held K. Raheja Corporation, which has holdings in the real estate, hospitality, and retail industries, is where Chandru Raheja made most of his net worth. Most of the company's assets are in Western and Southern India, whether in malls, IT parks, or hypermarkets. The Raheja family founded it in 1956, and Chandru now runs it with his two sons, Ravi and Neel. The K. Raheja Corporation's most recent endeavours include building a 600-room Marriott close to Mumbai's international airport and launching a Marriott hotel in Bangalore. Furthermore, it has already begun leasing units out of its opulent Mumbai midtown mansion, which has yet to open. These upscale apartments cost more than $10 million each.
Social Activities of K Raheja Group
---
Chandru Raheja is a philanthropist. He actively works to fulfil his societal obligations.
He has established the following:
---
S.L. Raheja Hospital & Diabetic Research Center
The Bombay Scottish School
L. S. Raheja College of Arts & Architecture
L. S. Raheja Technical School.
He has also built various parks, children's play areas, beautiful traffic islands, and other such things to contribute towards maintaining a green and equitable environment.
Some lesser Known Facts about Chandru
---
Chandru Raheja was born into a family that valued business in Mumbai, Maharashtra.
The K. Raheja Group was started by his father, Lachmandas Raheja, in 1956. The land was divided among Chandru's brothers into three portions after the family later divorced.
In 1996, Chandru Raheja split from his siblings and started his own real estate company.
He began his company as a real estate developer and has become a well-known figure in the diverse sector. Additionally, he oversees Crossword and Shoppers Stop, a chain of department stores in India (an outlet store).
He has four decades of in-depth knowledge of hospitality, retail, and real estate.
With a net worth of $1.5 billion, he was included for the first time on Forbes Magazine's list of Indian billionaires in 2008.
In 2018, Forbes placed him 859th among all billionaires and 49th among Indian billionaires.
Awards and Achievements:
---
In 2013, HIFI presented him with the esteemed "HIFI Hall of Fame Award."
He received the "Lifetime Achievement Award" from NDTV Property in 2016.
He received the 10th CNBC Awaaz Real Estate Awards in 2016 for his outstanding work in the real estate sector.
On behalf of K Raheja Corporation, CNBC presented him with the "Most Reliable Builder Award" in 2017.
---
Please visit for more information about influencers.
Rakesh Jhunjhunwala- Chairman of Aptech Ltd. and Hungama Digital Media Entertainment Pvt
Anu Aga-The Chairman of Thermax Ltd
T. S. Kalyanaraman Iyer – Founder and Chairman of Kalyan Jewellers