Anu Aga, sometimes called Arnavaz Rohinton Aga, is an Indian businesswoman who is "well recognized for her humanitarian activity and her never-give-up attitude." After experiencing numerous setbacks throughout her life, she persevered. She is also known as the wealthiest woman in India.
| | |
| --- | --- |
| Name | Arnavaz Rohinton Aga |
| Born | 3/08/1942 |
| Education | Bachelor of Arts/Science, University of Mumbai |
| Nationality | Indian |
| Children | Meher Pudumjee |
| Award | Padma Shri Award for social work in 2010 |
Biography
---
Anu Aga was born in Matunga, Mumbai, on August 3, 1942 (she will be 79 years old in 2021). "Wadia Vachha High School" was Anu's place of study. She later continued her studies to earn her Bachelor's in Economics at St. Xavier's College, Mumbai, and postgraduate studies in medical and psychiatric social work at the Tata Institute of Social Sciences.
Career
---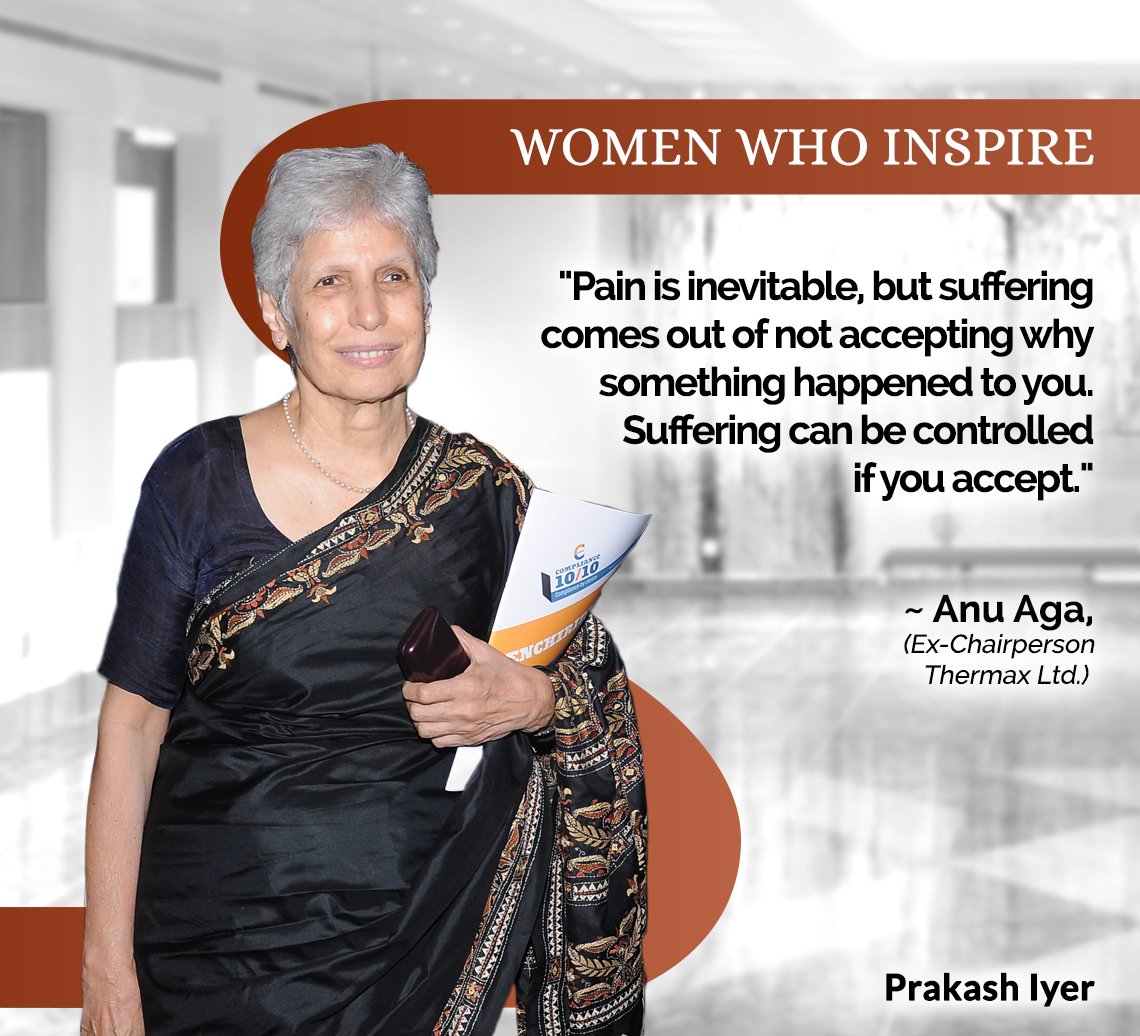 Anu began her work with Thermax in 1985, and from 1991 to 1996, she served as the organisation's chief of human resources. She assumed oversight of Thermax following the death of her hubby, Rohinton Aga. She retired in 2004 and was followed by Meher Pudumjee, her daughter and vice chairwoman of the business. Anu continues to serve on the company's board of directors today and is active in social work.
She served on the following committees as a member of the Rajya Sabha:
Member of the Personnel, Public Grievances, Law and Justice Committee (May 2012–May 2014)
Member, Parliamentary Forum on Children
Member of the committee on women's empowerment
Member of the commerce committee
Net worth:
---
Anu Aga has a net worth of $800 million and works as a social worker and businesswoman in India.
Personal life:
---
Anu gave birth to a son, Kurush, and a daughter, Meher, during her marriage to Harvard Business School graduate Rohinton Aga. Unfortunately, her son Kurush passed away at age 25, just over a year after her mother Rohinton passed away in 1996 due to a severe stroke. Arnavaz "Anu" Aga currently resides in Pune, Maharashtra.
Meher Pudumjee, her daughter, is the Chairperson of Thermax after succeeding her mother in 2004. She began working with Thermax in September 1990 after obtaining a master's degree in chemical engineering from the Imperial College of Science & Technology in London. She is a member of the Young Indians and Family Business Forum of the Confederation of Indian Industry (CII).
Some Lesser Known Facts About Anu Aga
---
Meher was the first kid born to Anu and Rohinton after their marriage. They tragically lost their second kid, who could not live due to an unidentified illness. Another infant boy with a hole in his heart was born in 1972.
Anu experienced a string of unfortunate events, one after another. When Rohinton was bedridden for two years in 1982, he shared his first heart attack. Anu started getting involved in the business during that time. As soon as he was feeling better, Rohinton assumed control.
Their company went public in 1995. Except for a catastrophic event in their lives, the business was doing well under Rohinton Aga's guidance. Anu returned to India from the UK in 1996 after a six-month absence because her daughter had given birth to her first child, and Rohinton was travelling from Pune to Mumbai to meet Anu. He lost his life due to a second big heart attack he experienced while travelling. Anu suffered a severe setback as a result.
Business Today magazine said she was among India's top 7 richest women in 2007.
She claims that she is interested in something other than technology. She isn't interested in high-end vehicles or technology.
Even her spouse didn't like Anu wearing jewellery since she didn't like how it looked. She considers jewellery a waste of money and prefers to dress in muted colours and fabrics. She despises nylon clothing. She wants to avoid overstatement in favour of being understated.
According to her, the happiest day in Anu's life occurred when she was dating her late husband, Rohinton Aga.
Awards and achievement:
---
Anu Aga received the Mumbai Women of the Decade Achievers Award.
Business Woman of the Year Zee Astitva Award, 2007
Padma Shri honour in 2010.
Pune's MIT group for MAEER was awarded a lifetime achievement prize in 2015.
BML Munjal Awards for 2015 in the category of Business Excellence through Learning and Development in the Private Sector
'Power Brands: Bharatiya Manavata Vikas Puraskar (BMVP) – Edition 2019' for philanthropy and business leadership.
---
Please visit for more information about influencers.
Rakesh Jhunjhunwala- Chairman of Aptech Ltd. and Hungama Digital Media Entertainment Pvt
Anu Aga-The Chairman of Thermax Ltd
Ritesh Agarwal – The Founder and the CEO of OYO Rooms