Narayana Hrudayalaya Health's chairman and founder are Devi Prasad Shetty. Devi Shetty is a cardiac surgeon and an Indian benefactor. His healthcare contribution has been listed as the best contribution to the country. He is best known for providing inexpensive services in the field of healthcare. He is named the best surgeon for operating on more than 15,000 hearts. He is also one of the seven members of the Board of Governors, which replaced the MCI. He was attributed to being "the Henry Ford of heart surgery" by The Wall Street Journal.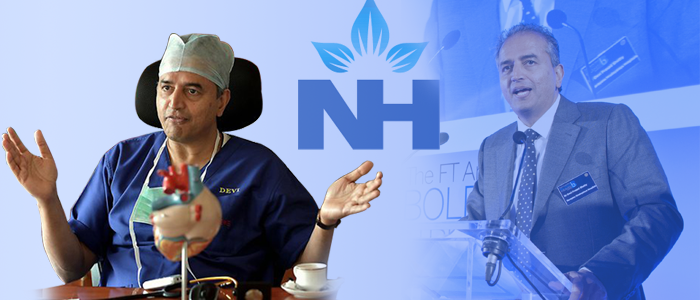 | | |
| --- | --- |
| Name | Dr. Devi Prasad Shetty |
| Born | 08/05/1953 |
| Education | Kasturba Medical College |
| Nationality | Indian |
| Children | Ameya Shetty, Anish Shetty, Varun Shetty |
| Award | Padma Bhushan Award for Medicine in 2012 |
Early life and Education
---
Devi was born on May 8, 1953, in Kinnigoli village, Karnataka, India. He was one of his family's eight siblings. A South African surgeon who had carried out the first heart transplant in history served as his motivation. He graduated in Medicine and did post-graduate work in general surgery at Kasturba Medical College in Mangalore. After that, he went to the U.K. and was trained at Guy's Hospital as a cardiac surgeon.
Career
---
He returned to India and worked at the B.M. Birla Hospital in Kolkata. He first performed neonatal heart surgery for a nine-year-old boy 'Ronnie,' named a successful cardiac surgery in medical history. This operation was conducted in 1992. He was also supported for doing surgery on Mother Teresa when she suffered a heart attack because he was also her doctor. After that, he began working at the Bangalore-based Manipal Heart Foundation at Manipal Hospital. His advice for a better heart is brisk walking and balanced food.
He established the multi-specialty hospital Narayana Hrudayalaya (N.H.), which was located in Bommasandra on the outskirts of Bangalore. This hospital has 1,000 beds, making it the biggest in the entire globe. Along with cardiac surgery, the hospital also offers neurosurgery, paediatric surgery, haematology, and transplant services. The hospital has procured two golf carts. These are driven by women, as Devi believes that if a woman earns money, she spends it all on the family. Women's empowerment is essential from his perspective. His goal was to serve the nation's citizens by lowering prices by 50% while implementing the concept of the economic scale. In 2012, he had a joint venture agreement with TriMedx, which was a subsidiary of Ascension Health.
In Kolkata, he founded the Rabindranath Tagore International Institute of Cardiac Sciences (RTIICS). He will build a specialty hospital near the Bangalore International Airport in Karnataka and Gujarat. He fulfilled his aim of creating a low-cost 150-bed hospital at Mysore on land provided by the Government of his company. He used ventilators rather than air conditioners. The Narayana Hrudayalaya has opened six more hospitals to provide high-quality treatment at a low cost. He plans to expand hospitals in India, Africa, and other parts of Asia. Their mission has always been to help the underprivileged and bring down the cost of healthcare in the country.
Net Worth
---
Dr. Devi Prasad Shetty's net worth is $1 Billion, as reported in 2022. Because he founded Narayana Healthcare, one of India's most excellent and reasonably priced healthcare providers, he established 21 sizable hospital facilities in India.
Amazing Facts of Dr. Devi Prasad Shetty
---
He is a specialist in Cardiovascular Thoracic Surgery.
He was also operated on by Mother Teresa when she had a heart attack and was appointed as her physician.
In 2020, he was cast in the Netflix documentary series "The Surgeon Cut." In that episode, Dr. Shetty and his team treated patients, primarily children and babies, on low-cost healthcare and performed 30 daily major cardiac surgeries.
Bada Business Co-founder met with Dr. Devi Prasad Shetty and discussed this professional experience.
In all his hospitals, he got down the coronary surgery to $800 within a decade.
He and his family have a 75% shareholding in Narayana Hrudayalaya.
He pioneered low-cost diagnostic healthcare facilities.
He was part of a seven-member panel of the board of Governors.
He and his team performed 1,20,000 heart surgeries, 40% on children.
His hobbies are travelling to the world's beautiful destinations.
Awards and Recognition
---
He won the Karnataka Ratna prize in 2001.
He received the Rajyotsava award in 2002.
He won the Sir M. Visvesvaraya Memorial Award, the Dr. B. C. Roy Award, and Ernst & Young's Entrepreneur of the Year honoured in 2003.
He received the Padma Shri award for medicine in 2004.
He received the Schwab Foundation Award in 2005.
It was awarded in 2010 by the ICICI Lombard & CNBC TV18 Healthcare Awards program for promoting accessible, high-quality healthcare for all people.
He received the Economist Innovation Award for the Business Process category in 2011.
He was given an honorary degree from the University of Minnesota in 2011.
In 2012, he received the Padma Bhushan Award for his contributions to medicine. He was also selected Indian of the Year by CNN-IBN for the public sector, and he won Entrepreneur of the Year at the E.T. awards.
In 2013, he received the F.T. ArcelorMittal Boldness in Business Awards.
He was awarded a Doctor of Science degree from I.T. Madras in 2014 and the Nikkei Asia Prize for Economic and Business Innovation in Tokyo.
Dr. Ida S. Scudder received the Humanitarian Oration Award in 2015.
The Lifetime Achievement Award for Public Leadership and the Lifetime Achievement Award for Clinical Care (Gold) were both presented in 2018 (Gold)
---
Please visit for more information about influencers.
Desh Bhandu Gupta- Founder and chairman of Lupin Limited
Benu Gopal Bangur- Chairman of Shree Cement
Venu Srinivasan – Chairman and Managing director of TVS