Prannoy Lal Roy is the co-founder and executive co-chairperson of New Delhi Television (NDTV). It is an Indian commercial broadcasting television network. Today NDTV is among India's top broadcasters and has offices and studios across the country. It covers three news channels named NDTV 24×7 (English), NDTV India (Hindi) and NDTV Profit (Business news). Prannoyis an Indian journalist, author, professional Chartered Accountant, Economist and media personality. He has been a true inspiration for the media. He has shown an overview of success in the industry. He always believes on facts when media is considered. His wife Radhika Roy is the co-founder along with him.

Personal Life
Prannoy Roy was born on 15th October 1949 in a Bengali family. His father was a Chief Executive of the Indian unit of a British company and an Irish mother who was a teacher. His grandfather Paresh Lal Roy was known as 'father of Indian Boxing'.He has a niece Arundhati Roy. He studied in Doon School in Dehradun. He won a scholarship to Hailey bury and Imperial Service College in the UK. He was graduated from Queen Mary College in London. He is qualified as a British Chartered Accountant. Later he completed PhD in Economics from the Delhi School of Economics.


He started his career with Doordarshan as the lead anchor for election analysis and budget specials. He worked for BBC World News' Question Time India. He married a journalist Radhika Roy and has a daughter have a daughter Tara Roy. In the year 1988, he launched the New Delhi Television which is a television production house along with his wife. He first started off withgeneral elections in India. He hosted new programs 'The News Tonight' and 'The World This Week'. These were nominated as India's 5 best television programs.
He started the India's first 24-hour English news channel NDTV 24×7. He has been a consultant to the India division of international accountancy firm PricewaterhouseCoopers. He was the Economic Advisor in the Indian government's Ministry of Finance. Along with this he was an Associate Professor at the Delhi School of Economics. Here he developed econometric forecasting model for the Indian economy. He served on the International Advisory Board of Council on Foreign Relations in Washington in the year 2009.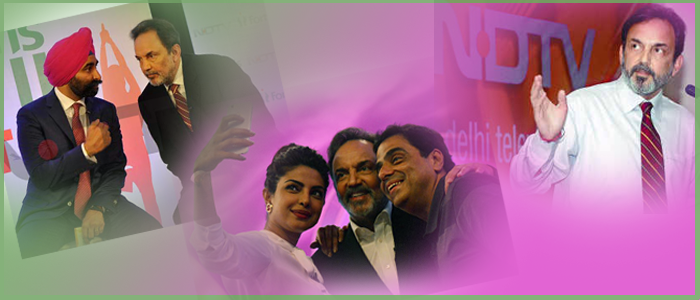 Every year the channel conducts the NDTV Indian of the year awards. It awards almost25 global Indians.
As an Author
He co-authored books 'A Compendium of Indian Elections' and 'India Decides: Elections 1952-1991' along with David Butler.
As a philanthropist
Prannoy has always focused on social issues through campaigns which includes 'Greenathon', '7 Wonders of India' and the 'Save Our Tigers campaign'. These have won the Best Public Service Campaign by a News Channel in the year 2011. He also included campaigns like 'Support My School', 'Marks for Sports' and 'JeenekiAasha' which focused on maternal and childcare issues around the country.


Awards
His programs have won many national and international awards. He is known as the 'Television Personality of the Millennium' by Indian Express poll.