Puthan Neduvakkatt Chenthamaraksha Menon is the founder of the Sobha Ltd. which was formerly known asSobha Developers Ltd. This was his profitable venture for which he dreamt of. He is known as Indian-Omani businessman. Now, Sobha will be expanding its business by including a three- star hotel management company called Strada. Presently it has aimed for 50 to 100 hotels all over the world. He had laid a small woodworking outfit to start his home town as a base of Estate Empire straddling India and the Middle East.
Mr. Menon was born on December 13, 1948 in Thrissur in Kerala. At an early age, he lost his father. He later was dropped out of college. He then started interior decoration business. He met an Arab who invited him to do business in Sultanate of Oman in the year 1976. He thenincorporatedseveral companies in the Sultanate of Oman. Where years passing on, he developed his passion over interior decoration business.


He started the Sobha Ltd. in the year 1995on the name of his wife. He has two daughters and a son. His son Ravi P.N.C. Menon is the present chairman of the Sobha Ltd. He is graduated in Civil engineering from Purdue University, USA. Initially he was the director of the company. His execution in terms of the company includes handling and he mastered the areas of Project Execution, Quality, Technology, Process & IT, Customer Relationship Management, and Design& Engineering.
As a philanthropist
Mr. Menon established the Sri Kurumba Educational & Charitable Trust for executing his vision in philanthropic activities. It also adopted 2 panchayats in Palakkad district in Kerala, known as Vadakkenchery and Kizhakkenchery. His aim was to grow social empower. By this he provided education to children. He pledged half of his salary to charity.


His firm established Sobha Heritage and Sobha Academy in 2006 and has pledged half his personal wealth to charity. Menon is estimated to have a net worth of over $600 million. For the next few years he has taken the initiative of various social, not-for-profit initiatives of Azim Premji Foundation by utilizing the endowment to fund.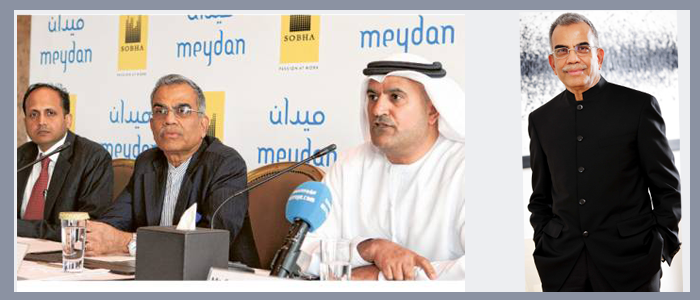 Awards
In 2013, he was conferred with Lifetime Achievement Award by NDTV and Business Man of the Year by the State Forum of Bankers Clubs Kerala.
In 2014, he was awarded the Excellence in Business Award by The Times of India, Malayalee Business Achiever Award by Pegasus Group,Dhanam Lifetime Achievement Award by Business Magazine Dhanam and Golden Peacock Lifetime Achievement Award for Business Leadership by Golden Peacock Awards.
In 2015, he was honored with Arabian Indian Czar Award by the News Channel Times Now and Management Leadership Excellence Award by Calicut Management Association.