The Great Narayana Murthy Biography
He believes that visualization is one of the most powerful means of achieving personal goals. His desire presupposes the possibility of action to achieve it. He is none other than, the most successful entrepreneur of the soft ware world Narayana Murthy, one of the seven founders of Infosys Technologies Ltd.
Nagavara Ramarao Narayana Murthy, in short known as N. R. Narayana Murthy is a reputed industrialist, software engineer and also one of the founders of Infosys Technologies, a global consulting and IT services company based in India. He was born on 20th August in the year 1946 in Sidlaghatta, Karnataka. He got a degree in Electrical Engineering in the year 1967 from National Institute of Engineering, after that he received masters from Indian Institute of Technology in Kanpur.
Murthy initiated his career at IIM Ahmedabad as chief systems programmer; from there he leaped to set his own company Softronics which failed leading him into Patni Computer System in Pune.
On one fateful day the idea of Infosys was born in the brains of Narayana Murthy which slowly crystallized his goals. He along with his six friends (Nandan Nilekani, N S Raghavan, S Gopalakrishnan, S D Shibulal, K Dinesh and Ashok Arora) who were soft ware engineers by profession sat in his apartment and made a plan to start a company to write software codes. Their plan shaped up in the year 1981 on July 2nd in the name of Infosys as a private limited Company. His partner N S Ragahavan's house in Matunga was its registered office.


Murthy who is deficient with money borrowed Rs 10,000 from his wife Sudha to start their company. His wife Sudha Murthy is an author and a social activist. They had two kids Rohan and Akshata.
Under his leadership Infosys grew leaps and bounds, in 1987 Infosys stepped internationally putting its first foot in U.S.A. From then onwards they never looked back. Due to the Indian economy liberalization in the year 1990, it grew rapidly later the company came up with its IPO. It multiplied furtherby setting up development centers throughout India; it also opened its first office in Europe in Milton Keynes, Uk. It was the first Indian IT company that was listed on NASDAQ. By 2006 the turnover increased to $ 2 billion and employee strength grew more than 50,000. In 2002 their company was ranked No. 1 in the category of "Best Employers in India 2002" and also for "India's Most Respected Company".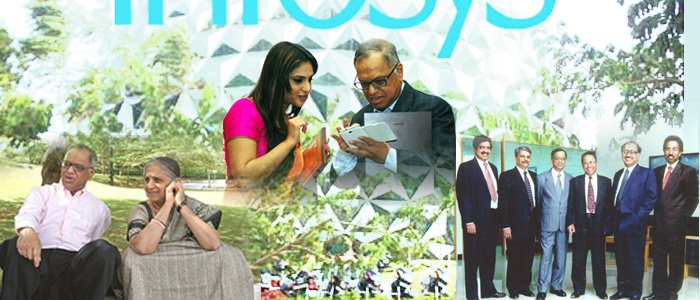 Murthy is always known for his kind heartedness. After IPO, Infosys started to share a portion of its equity with its employees. This practice helped the employers to retain their talent and a sense of ownership. Murthy the proud holder gave away stocks worth around Rs 50,000 to employers. Murthy always appreciated and rewarded good performers. He insisted on giving some shares to star performers through "Chairman's quota".
Along with his economical growth he developed his caliber too. He was rewarded with many awards. Asia Week magazine featured him among Asia's 50 most Powerful People in June 2000, he was named by TIME/CNN as one of the 25 most influential global executives in the year 2001, he was the first to get Indo-French Forum Medal (2003), and he was voted the World Entrepreneur of the Year 2003. Murthy also received Padma Vibhushan (2008), Padma Shri (2000) etc.



It's a privilege to Indians for having such great people setting examples and sculpting their ways making it easy for the remaining. Apart being a business man he is a socialist too who with his "no compromise" policy set the standards doing ethical business.