GautamThapar is the founder of the Avantha Group. The group holds Crompton Greaves, Ballarpur Industries Limited, Tiger Bay restaurant, Global Green and Solaris Chemtech. In 2010, he took over as the chairman of the board of governors of the Mumbai-based business school NITIE, for a 4-year period. This includes power generation and distribution, power transmission and distribution equipment and services, farming, forestry, food processing, chemicals, infrastructure, paper and pulp and BPO.He is also the President of All India Management association (AIMA).


Gautham's life
Gautham was born on 7 December 1960. He belongs to the third generation of the family business The Thapar Group founded by his grandfather Karam Chand Thapar. He completed his schooling from The Doon School. He pursued chemical engineering at Pratt Institute in USA. It was hard for him to find a suitable job, hence he returned back to India. He started working for Thapar Groupin a manufacturing unit as a factory assistant. The Thapar group was extending but they eliminated Gautam in the hierarchy. This, life turned challenging for him at a young age. He rose up and marked himself through reviving certain sick units of the company into profitable ventures.


He got through the working mechanisms of the group and reestablished everything in order. His uncle Lalit Mohannurtured the company BILT's new export business whichdealt with the leather, shoes and foods. His uncle felt he had courageous attitude to maintain a company. Hence, he handed over the BILT's chemical division which was suffering with heavy losses. He found out the root causes for the losses suffered by the BLIT's chemical division. Understanding the cause as the shortageof water and power, he turned the company into profit-making unit by selling off certain assets and dealing firmly with the labor.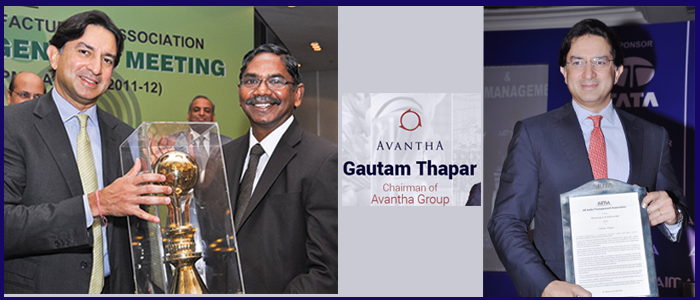 He married RajkumariPreeti Devi, but they got divorced each other in 1993. He married Stephanie, his second wife, is a German and together they have two daughters. He is a father of 4 children. In the 2004, he became the chairman of Crompton Greaves. Inspired by this his uncle developed affectionate and reverential feelings for Gautam. He gave his shares and rights on his retirement. In the year 2006, he named the Avantha Group and headed as the Chairman.


Other Activities of Gautham
He invested in educationin Thapar University which was a top technical school of India. He is the president of the Professional Golf Tour of India (PGTI) which actively organizes various events.
Awards
In 2008, he was awarded the Ernst & young entrepreneur of the year.