CherukuriRamoji Rao is the successful entrepreneur of the media business. He has played a key role in developing his business worldwide. He owns Ramoji group and Ramoji film city which is known as the world's largest film production. This is situated near Hayathnagar on Hyderabad-Vijayawada Highway. By earning millions he has turned into a great entrepreneur and celebrity by his successful business ventures. He has held various sections for the people in the state and nation. The way he handles his varied businesses are maintained transparency in all deals. Millions of people watch the TV channels which include ETV news and entertainment.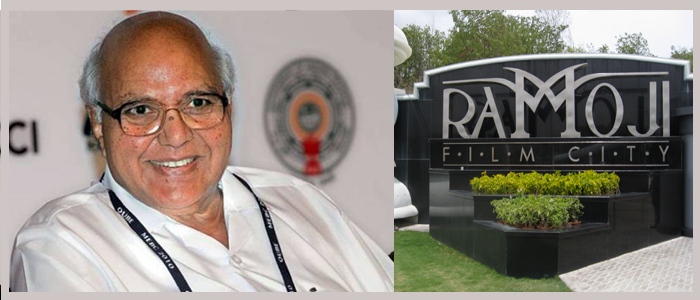 Ramoji Rao was born on 16 November 1936 in Gudivada, Andhra Pradesh. He hails from an agricultural family. In Ramoji group he owns Margadarsi Chit Fund, Eenadu newspaper, ETV, Priya Foods andUshakiron Movies.. Ushakiron Films has produced films such as Mayuri, Pratighatana, and Sitara.It is incorporated as aHindu United Family by various private companies. He has a son CherukuriSumanwho died of cancer in the year 2012.
Ramoji Film City
Ramoji Rao developed the largest film production facility in the world. In a survey it was proven that nearly 100,000 tourists visit this facility every month. The Ramoji Film City includes exotic gardens, an entertainment centerof live stunt shows and a ride that simulates space travel. It has made many facilities for film production in the world.


The Eenadu
Eenadunewspaper which is a Telugu version has been noted for more than 30 years for quality paper and worthy news. He created the newspaper with zeal of intellectuals, thinkers, dreamers and challengers. In India 'the Hindu' is the best newspaper and eenadu has stayed an equal challenge with this paper. The language format is very easily understandable one. Eenadu is the only emperor among all the dailies published in Andhra Pradesh today. It is one of the best newspapers in the country.


ETV
ETV Network is one of the largest networks of satellite television channels in India that is running over seventeen regional languages with news and entertainment channels. The Eenadu started its own channel named Eenadu TV on 27 August 1995 as satellite broadcasting in India. The network added regional channels in other Indian languages and built a large local news network.
Now the ETV is owned by Network 18, who bought it from Ramoji Group in the year 2013.


In 2015 Viacom 18 rebranded five ETV regional general entertainment channels. They are ETV Marathi, ETV Gujarati, ETV Kannada, ETV Bangla and ETV Odia which have been rebranded to Colors Marathi, Colors Gujarati, Colors Kannada, Colors Bangla and Colors Odia.
Awards
Ramoji Rao has won several awards. Some of them are:
In 1985, he won Filmfare Best Film Award for the film Pratighatana.
In 1998, he was awarded by Filmfare Special Award, South for outstanding contributions of south Indian cinema.
In 2000, as a producer he won National Film Award for Best Feature Film in Telugu.
In 2004, he was awarded Filmfare Lifetime Achievement Award, South.