Tikkavarapu Subbarami Reddy is the Member of the Parliament of India representing Andhra Pradesh in the Rajya Sabha and Lok Sabha since 1996. He is a well-known politician, film producer and a philanthropist. He is a member of the Indian National Congress and a former Union Minister.He was elected for 11th and 12th Lok Sabha twice in 1996 and 1998 from Visakhapatnam constituency. He was elected as Rajya Sabha member in 2002 continuously for the third term. He was also a member for various parliamentary committees. He was a Minister of State in the Ministry of Mines between 2006 and 2008.Subbarami Reddy and his wife have legal assets liabilities over ₹ 248 crore.
He was the Chairman of Tirumala Tirupati Devasthanam Board (T.T.D.) in 2004, National Panorama Festival Committee in 1992, National Film Award Jury in the year 1994 and 1997, Andhra Pradesh Cultural Federation in 1994 and Member of Central Film Censor Board from 1983 till 1985.


As an industrialist
Subbarami Reddy was born on 17 September 1943. He completed his education from Nizam College in Hyderabad as a B.Com graduate. He was born to T. Babu Reddy and Rukmini Amma at Nellore, Andhra Pradesh. He has a relative T. Pattabhirama Reddy who is a filmmaker and a script writer. Subbirami Reddy founded the Gayatri Projects India Pvt. Ltd. The Gayatri Group consists of four companies namely, Thermal Powertech Corporation India Ltd., Gayatri sugars, Gayatri Bio Organics and Park Hyatt, Hyderabad. The Gayatri holdings has been the field of business for the last 35 years involved in the construction activity, sugar industry, chemical industry, State's development.


List of Gayatri Projects
The Gayatri Sugars Manufactures sugar, co-generation of green power, Rectified Spirit and Extra Neutral Alcohol.The company has 2 Harvesting Machines that has encouraged the farmers by implementing Mechanized Cane Harvesting. The company has initiated Solar Fencing to the farmers to protect the cane from Wild bores.
Thermal Powertech Corporation India Limited (TPCIL) is a company incorporated as a joint venture between Hyderabad-based Gayatri Energy Venture Pvt. Ltd. (GEVPL) and Singapore-based Sembcorp Utilities.
Gayatri Bio-organics is one of the largest manufacturing units of Starch, Modified Starches, Liquid Glucose, Sorbitol and its allied products in south India.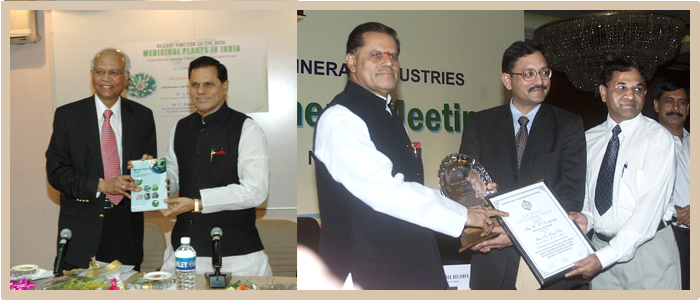 Park Hyatt Hyderabad is a Luxury Five Star Hotel located in the upscale Banjara Hills. The services offered here are the best practices for business travelers and discerning local guests. It is constructed with 209 spaciously appointed rooms, three award winning restaurants, technology friendly meeting spaces and a Nizami themed Spa.
Subbirami Reddy made his wife T. Indira Subbarami Reddy as the chairman of Gayatri Projects India Pvt. Ltd.The couple has a son Sandeep Reddy and daughter Pinky Reddy.
In the honor of him, the Telugu cinema has contributed its name with the T. Subbarami Reddy Award commonly known as T.S.R Awards. He produced films in Bollywood, Telugu and Tamil cinemas which includes
 Bhagavad Gita
 Dilwaala
 Chandni
 Lamhe
 Swami Vivekananda
 Jeevana Poratam
 State Rowdy
 Gangmaster


Awards
In 1988, he was recognized by Maharashtra Government as Kala Samrat.
In 1989, he received the Kala Ratna by Lt. Governor, Delhi.
In 1993, he was conferred with Kala Ratna by Telugu Academy.
He received the honorary doctorate by Mangalore University for recognition of his social work.
The film, Bhagavad Gita has garnered the National Film Award for Best Feature Film at the 40th National Film Awards.
In 2002, He was awarded by Life Time Achievement Award by American Telugu Association.
He was tagged by Yuva Ratna Award from TSR Yuvasena Fans Domalaguda, Hyderabad.
He was conferred by a Gold Medal from the then Prime Minister of India, Indira Gandhi for his great contribution in the construction of the then world's biggest dam Nagarjuna Sagar Project in Andhra Pradesh. During this time he was a mud contractor for the dam.