Naresh Goyal:  Naresh Goyal is the founder and the chairman of Jet Airways. He is a non-resident Indian.
About Jet Airways
Jet Airways is an Indian airline which is based in Mumbai. It is the second largest airline in India that was established in the year 1992. Initially it started as an air taxi operator. Now it is divided into Air Transportation and Aircraft Leasing. It is also divided into two air transportation groups which are domestic and International. It operates almost 300 flights on daily basis with 74 destinations.


Naresh also started the Jet privilege which serves the people with services of Jet Airways who travel frequently. It helped the members by accumulating miles to their credit.In 2007, jet airways took over Air Sahara and renamed as Jet lite.The company is listed on the Bombay Stock Exchange along with 80% of its stock is controlled by Mr.Goyal.
Glace at Goyal's Life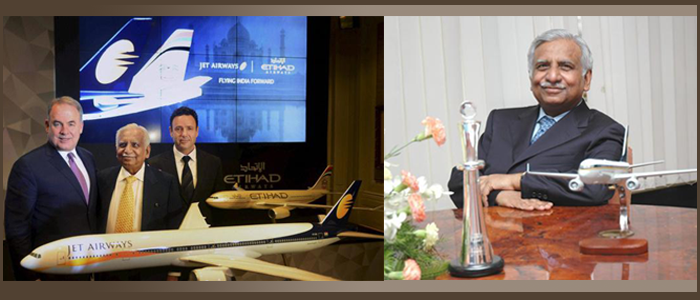 He was born on 29 July 1950 in Punjab. His father was a jewelry dealer at Nabha Gate. He studied up to 6th standard in Govt. Raj High School. Later his family went through economic crises due to which their house was auctioned by the government and bank.They faced lots of problems and their belongings were thrown out. Lack of money he could not study Charted accountancy as it was one of his interests. His brother and his uncle helped him financially.He completed his Bachelors in Commerce from Bikram College of Commerce in Patiala.
Goyal had to experience hardships like studying under the street lamp, sleeping on the floor at his uncle's office. After his graduation, he started working for his uncle's agency at Lebanese International Airlines as a cashier in 1967. After 2 years he was appointed as the Public Relation Manager of Iraqi Airways. In 1971 he was made the Regional Manager for ALIA in Royal Jordanian Airlines. He gained experience in various areas like ticketing, reservation and sales.


In 1974, he set up his own agency, Jet air on the lines of Air France, Australian Airlines, and Cathay Pacific. In 1991, the Indian aviation market began to open up. The government allowed private carriers to fly. He took the major step of setting up his own airline-jet airways.
He married Anita who was associated with Jet Airways.She had 28 years of experience in the aviation industry's marketing and sales. Their daughter Namrata was introduced to the group as a management trainee. Mr. Goyal has a grandson Nivan.
Today, Jet Airwaysis the biggest domestic airline with strong and aspiring skills to go global across Europe, Asia and the United States. Now his net worth is about $2.2 billion.
Awards and Achievements
Naresh Goyal, has truly inspired many hearts all over the world. He is the recipient of many prestigious awards and honors.
In 2000, he received the Entrepreneur of the Year Award for Services from Ernst & Young and Distinguished Alumni Award for meritorious performance as an Entrepreneur.
In 2006, he was awarded with NDTV Profit Business Award by the Prime Minister.
In 2008, he was recognized by Man of the year award by the Belgian aviation Press Club.
In 2010, He received Lifetime Achievement Award by travel agents Association of India.
He also received the Star of Asia award by Business week.