Naina Lal Kidwai is the General Manager and Country Head of HSBC India.Naina is best known for Indian banker, Chartered Accountant and business executive. She was held various positions in HSBC like Chief Executive Officer of HSBC Holdings Plc,Country Head of HSBC India,Head of Corporate & Custodial Services of HSBC Bank,Deputy Chief Executive Officer of HSBC Holdings Plc and Managing Director of HSBC Securities and Capital Markets India. She also serves in other positions like non-executive director on the board of Nestle SA, Chairwoman, City of London's Advisory Council for India and Global Advisor at Harvard Business School. She is on the Governing Board of NCAER, Audit Advisory Board of the Comptroller and Auditor General of India and on the National Executive Committee of CII and FICCI.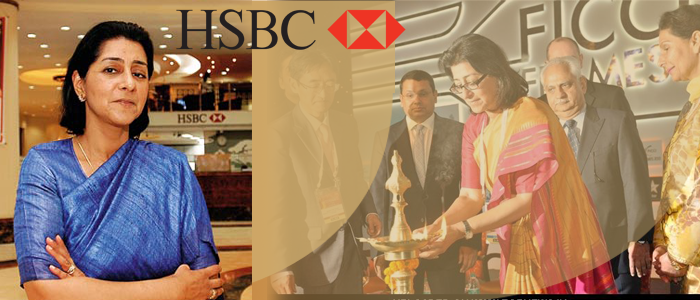 Naina completed her Bachelor's degree in Economics from University of Delhi. She is a best qualified chartered accountant. Later she pursued MBA from Harvard Business School being the first Indian woman to graduate for the same.Initially she started working for ANZ Grindlays.Her assignments included Head of the Investment Bank, Head of Global NRI Services and Head of the Western India and Retail Bank.


She was also the Head of Investment Banking in Morgan Stanley India and JM Morgan Stanley. She worked in Standard Chartered Bank where she learnt lot of attributes for increasing the revenues for a bank. Later she joined HSBC and was also known for the first woman to guide the functioning of a foreign bank in India.
Personal life
Naina married Rashid Kidwai. He runs an NGO Grassroot Trading Network for Women. The couple has two children. She likes managing home and work with equal importance. Her father was the CEO of an insurance company. Her mother is the sister of the famous industrialist Lalit Mohan Thapar. She has interests in microfinance and livelihood creation for rural women and environment. She supports AIESEC which is the world's largest youth driven organization. She loves trekking the Himalayas.


She is very fond of classical and the western music. As a nature lover, she has interests in knowing wild life better. Her thoughts and her work has represented in the list of Top Women in Business,Wall Street Journal and in the Global Listing of Women to Watch ad listed by Time Magazine. Her work is praised and has earned many accolades.
She has been the voices of Indian women who have been pioneers and led large organizationsin various sectors in the industry.


Awards
In 2013, she received the ALL Ladies League's Delhi Women of the Decade Achievers Award for Excellence in Banking.
She also received Padma Shri for her contributions in trade industry.