Kiran Mazumdar-Shaw is the chairman and managing director of Biocon Ltd. She is also the former chairman of of IIM-Bangalore. Biocon is a biotechnology company based in Bangalore. Initially Kiran met Leslie Auchincloss who was the proud owner of the Auchincloss' company that produces enzymes for use in the brewing, food-packaging and textile industries. Leslie wanted to launch an Indian Subsidiary; hence Kiran helped her for being an Indian entrepreneur. Kiran served a period of Trainee Manager at Biocon Biochemicals Limited, of Cork, Ireland for leaning the business. In 1978, she started the Biocon India at the rented house in Bangalore.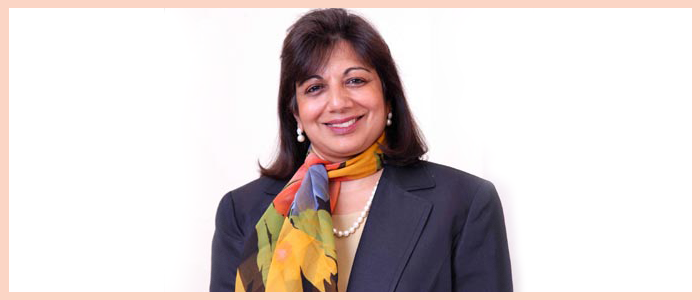 At every point in life she faced several problems. Setting up a company was a great challenge for her as the government doesnot accept 30-70 % partnership with the foreign company. Bank rejected her loans and she had no other funds for the company. At an event she met a banker who helped her with a most complicated start-up. After this, recruitment was a problem. Technologically there were requirements related to the infrastructure like uninterrupted power, superior quality water, sterile labs, imported research equipment, and workers with advanced scientific skills .Kiran spearheaded Biocon's evolution with integrated bio-pharmaceutical company. She established two subsidiaries namely Syngene, which provides early research and development support services on a contract basis and Clinigene which focuses on clinical research trials and the development of both generic and new medicines.


About Kiran's Life
Kiran Mazumdar was born in Bangalore, India on 23rd march 1953. She completed her schooling at Bangalore's Bishop Cotton Girl's High School. She completed her B.Sc. in Zoology in a women's college under Bangalore University. Her father was the head brew-master at United Breweries.


She then went to Federation University in Australia to study Malting and Brewing. At her time she was the only woman enrolled in the course.She earned the degree of Master Brewer and was the topper of her class. She joined as a trainee brewer in Carlton and United Breweries, Melbourne and as a trainee maltster at Barrett Brothers and Burston, Australia. She was also the technical consultant at Jupiter Breweries Limited, Calcutta and as a technical manager at Standard Maltings Corporation, Baroda.


As a philanthropist
The Biocan started philanthropic activities under the leadership of Kiran. Hence, the company started the Biocon Foundation. It focused on health, education and infrastructure, especially in rural areas of Karnataka. She believes philanthropy is a term for temporary fixes; hence she calls it a compassionate capitalist. She believed benefits are the everlasting contributions to the society. She started the ArogyaRakshaYojana with Dr. Devi Shetty of Narayana Hrudayalaya Hospital. It offers clinical care, generic medicines and basic tests for those who cannot afford them. She also started the Mazumdar-Shaw Cancer Center when her best friend faced the death by cancer. She also added a center for advanced therapeutics with a bone marrow transplant unit and a research center.On educational field, she collaborated with McMillan India Ltd and supported development and use of a basic mathematics textbook.


Awards
In 2014, she was conferred with Othmer Gold Medal for outstanding contributions to the progress of science and chemistry.