Raunaq Singh was the founder of the Raunaq Group. The group includes major companies like Apollo Tyres Ltd., Bharat Gears Ltd., Bharat Steel Tubes Ltd., Raunaq International Ltd., MenariniRaunaq Pharma Ltd. and Raunaq Automotive Components Ltd. This Group has been catering the housing needs of Mumbai, Pune and Thane. Their projects have covered over 3.8 million sq. ft. Raunaq was elected as a member of the Executive Board of the International Chamber of Commerce in Paris. His passion was to create elegant homes with excellence for lifetime.


He has led the group by valuing the customers with tremendous respect and goodwill. Over the years passing by, he has built developed various township projects. Raunaq was one of the entrepreneurs who have thought big and made it big. He has always exceeded his expectations by providing superior quality in construction and service by creating spacious and luxurious homes with modern facilities at affordable prices.


His deep sense of responsibility has attracted the customers, employees and partners.He took small measures like providing rainwater harvesting and solar panels have been accountable. He has always reached the expectations that provided best employment by ensuring actions and interactions.
Glance at his life
Raunaq was born in the year 1922. At a time he was able to afford only one paisa a day for meals. He struggled hard to become a powerful figure in corporate India. Thousands of people have been employed on his payroll. He worked very hard to put the Indian industry on the global map.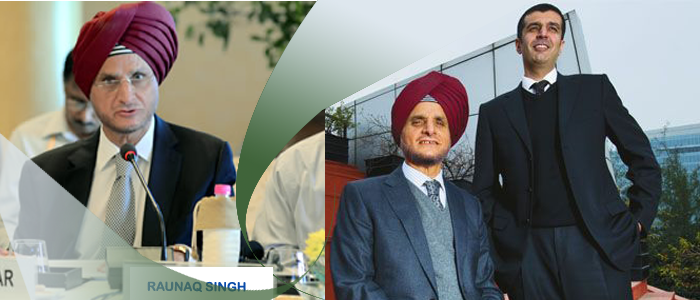 He was held in leadership positions in Industry and in Trade Associations. Some of it includes President Federation of Indian Chambers of Commerce & Industry (FICCI), President the Associated Chambers of Commerce and Industry of India (ASSOCHAM), Chairman Engineering Export Promotion Council (EEPC), Chairman Automotive Tire Manufacturers Association, and President Federation of Indian Export Organization.


He was an advocate of economic liberalization and globalization of the Indian business. His life presented a rags-to-riches tale. He laid the foundation of his business in a modest way on which the multi-million dollar empire was built. He had four sons and a daughter. His eldest son Onkar Singh Kanwaris Chairman and Managing Director of the group's flagship which is the Apollo Tires. Raunaq has won several awards for his entrepreneurship. He was known as the Mr. Exporter as he inclined exports and export promotion for Indian Industry. He has the international recognition for his entrepreneurial skills. Due to heart attack he died at the age of 80 in the year 2002.