According to billionaire Mukesh Ambani, India's economy is projected to grow to USD 40 trillion by 2047, a 13-fold increase from its current size, primarily due to the renewable energy revolution and digitalization. Ambani's prediction for India's economy, which is currently the fifth largest in the world behind only the US, China, Japan, and Germany, is more optimistic than that of Asia's richest man, Gautam Adani, who said last week that India will have a USD 30 trillion economies by 2050 as a result of rising consumption and socio-economic reforms.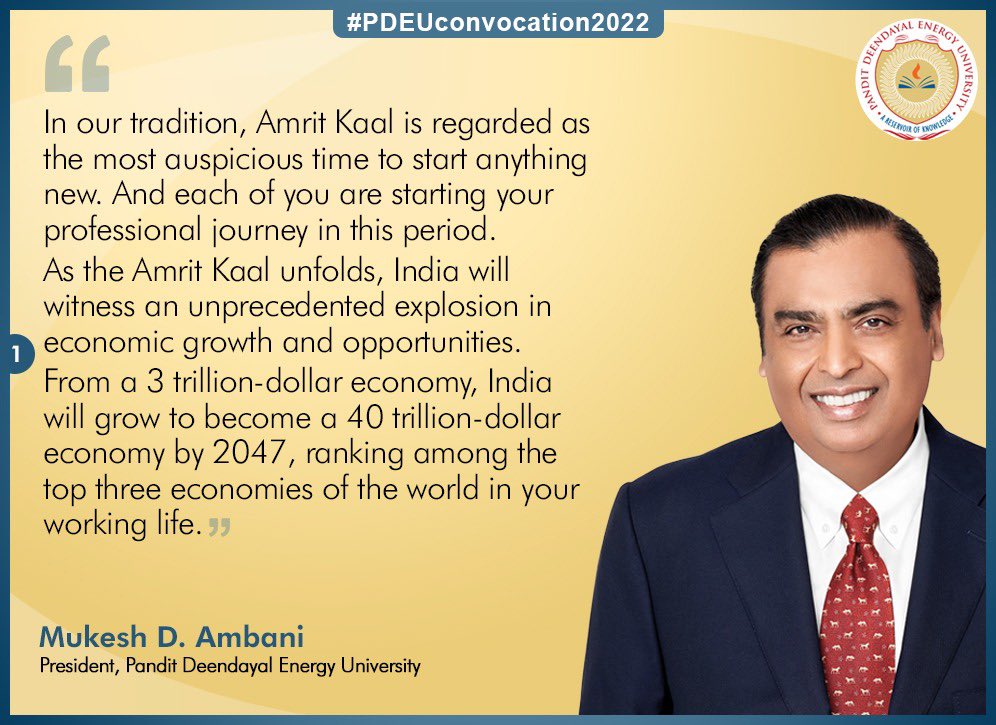 Ambani stated at the 10th conference of Pandit Deendayal Energy University that India's economy, which is currently worth $3 trillion, will increase to $40 trillion by 2047, placing it among the top three economies in the world.
He projected that as "Amrit Kaal," or the decade leading up to India's celebration of its 100th anniversary of independence, progresses, the country will witness unheard-of economic development and opportunity.
Reliance Industries Ltd., an oil-to-telecom giant owned by Mukesh Ambani, is investing billions of dollars in building a value chain for renewable energy that includes everything from solar panels to hydrogen. His Jio revolutionised the telecom sector by offering affordable bandwidth and cost-free phone calls, which catalysed the nation's digital transformation.
The digital age will make it possible for us to use energy more effectively, while the clean energy and bioenergy eras will enable us to produce energy sustainably, according to Ambani. Together, the three revolutions will help India and the rest of the world avert the climate crisis from destroying our beautiful planet.
He gave the students the advice to "Think big, Think green, and Think digital" as three mantras for success.
"Be a big-hearted dreamer. Every great thing that has ever been constructed in this world began as an unattainable fantasy. Therefore, you must possess the courage to own your dream, nurture it with conviction, and realise it through bold, organised action. "You can only accomplish the impossible through this, "said he.
He added that technologies like artificial intelligence, robots, and the Internet of Things (IoT) are potent change agents and will play a force multiplier role in the mission to make India a leader in sustainable energy.
He suggested the students take advantage of them.
These three maxims will serve as your guide in your effort to establish India as a world leader in renewable energy, he concluded.
Ambani added that the COVID-19 era was a trial by fire that imparted priceless lessons, moulded better professionals, and hardened people from the inside out.
The National Assessment and Accreditation Council has given Pandit Deendayal Energy Institution (PDEU), the first and only private university in Gujarat, the top grade of "A++" (NAAC).
More than 6,500 students and research fellows are currently enrolled in classes at the university to pursue their interests in engineering and cutting-edge renewable energy technologies like wind, solar, biofuel, geothermal energy, and green hydrogen.